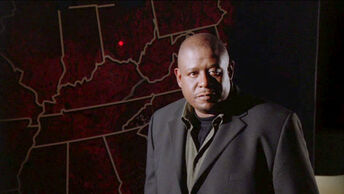 Main article: The Twilight Zone (Third Series)
This is an overview of the first season of the Twilight Zone's second revival (2002-2003).
This was the premiere—and only—season of the second revivial of The Twilight Zone. The season consisted of forty-four half-hour episodes, but were aired together in pairs to fill a full-hour timeslot. Aired on the UPN network, they were hosted by Forest Whitaker as the Narrator.
Notable guest stars
Notable guest stars in this season included: Bill Mumy, Jeremy Sisto, Alicia Witt, Robin Tunney, Ione Skye, Andrew McCarthy, Katherine Heigl, Eriq La Salle, Lukas Haas, Jason Bateman, Jason Alexander, Molly Sims, Jeremy Piven, Jaime Pressly, Usher, Morgan Freeman, and Jessica Simpson.
Notable episodes
Memorable quotes
Main article: List of memorable quotes from the third series
Episode list
Evergreen (September 18, 2002)
One Night at Mercy (September 18, 2002)
Shades of Guilt (September 25, 2002)
Dream Lover (September 25, 2002)
Cradle of Darkness (October 2, 2002)
Night Route (October 2, 2002)
Time Lapse (October 9, 2002)
Dead Man's Eyes (October 9, 2002)
The Pool Guy (October 16, 2002)
Azoth the Avenger is a Friend of Mine(October 16, 2002)
The Lineman, Part 1 (October 23, 2002)
The Lineman, Part 2 (October 23, 2002)
Harsh Mistress (October 30, 2002)
Upgrade (October 30, 2002)
To Protect and Serve (November 6, 2002)
Chosen (November 6, 2002)
Sensuous Cindy (November 13, 2002)
Hunted (November 13, 2002)
Mr. Motivation (November 20, 2002)
Sanctuary (November 20, 2002)
Future Trade (November 27, 2002)
Found and Lost (November 27, 2002)
Gabe's Story (December 4, 2002)
Last Lap (December 4, 2002)
The Path (December 11, 2002)
Fair Warning (December 11, 2002)
Another Life (December 18, 2002)
Rewind (December 18, 2002)
Tagged (December 25, 2002)
Into the Light (December 25, 2002)
It's Still a Good Life (February 19, 2003)
The Monsters Are on Maple Street (February 19, 2003)
Memphis (February 26, 2003)
How Much Do You Love Your Kid? (February 26, 2003)
The Placebo Effect (March 4, 2003)
Cold Fusion (March 4, 2003)
The Pharaoh's Curse (March 11, 2003)
The Collection (March 11, 2003)
Eye of the Beholder (March 18, 2003)
Developing (March 18, 2003)
The Executions of Grady Finch (March 25, 2003)
Homecoming (March 25, 2003)
Sunrise (April 1, 2003)
Burned (April 1, 2003)